Info Panel
The Info Panel displays the titles and captions you have entered for your images. To set the options for your Info Panel: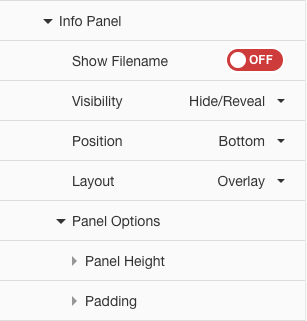 • Set the visibility of the Info Panel to Hide/Reveal (visible on click), Always Visible, or Never Visible (removes the Info button from the Slideshow Toolbar).
• Choose the position of your Info Panel on your site to slide in from the top, right, bottom, or left.
• For layout, select Overlay for your info panel to display on top of your image or Push, which will slide your image over to make room for the info panel.
• In Text Options:
     • Select the Font family from the drop down menu.
     • Adjust the font size with the slider.
     • Select the font colors for your text. The color picker lets you select a color by choosing from a color Iield and spectrum or entering the RGB color values. You can also enter a hexadecimal color value (ie #999999).
     • Within Text Options are more advanced customization options for your text: Text Transform, Text Decoration, Letter Spacing, and Line Height.
• Select the color for your Info Panel background color. You can also set the opacity of the color by using the bottom slider or inputting a fourth number in the RGBA Iield. Choose a color and opacity combination that works with your title and caption font color. 
Note: If you have set your Info Panel to Overlay, you may wish to adjust the opacity so more of your image can show through.
Changing the Appearance (color and typography) of the Info Panel information
To change the color and style of the Info Panel information, expand the main Color or Typography panels to make those changes within the Gallery subpanel accordingly.
Also, learn how to Add Image Titles and Captions