Overview
clickbooq websites subscribed to a Lite or Pro plan, and using a custom domain name, now support SSL (Secure Sockets Layer) certificates. The SSL protocol allows for secure browsing of your website over https:// connections.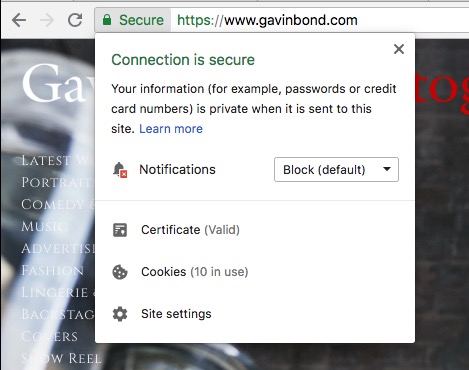 Why is SSL important?
Website data traffic that is served via SSL protocol (i.e. https://) is encrypted between your user's browser and clickbooq website servers. The encrypted data is unreadable by any malicious and unauthorized 3rd parties, such as "Man-in-the-Middle" intercept attacks.
By securing your website with SSL, your visitors will feel more secure when visiting your website and transmitting any data to you, such as through Contact Forms. Also, Google has announced that websites utilizing the https (SSL) protocol may be a [favored] signaling factor in terms of ranking versus non-https/unencrypted websites.
FAQs
Is there an additional fee for the SSL certificate?
SSL certificates are included as part of your Lite or Pro subscription at no additional charge. Certificates will continue to renew automatically for as long as you are a clickbooq subscriber.
How do I start displaying my website over https protocol?
SSL support and redirection is automatic. All eligible custom domains will be issued an SSL certificate and the appropriate redirects will be performed to route your visitors and search engines to the new https://www version of your website.
I'm using Google Analytics. Do I need to make any changes to view traffic for the https:// version of my site?
Google Analytics users should update their accounts to add the new https://www version of their website. Due to the 301 redirects that are being performed, all relevant page rankings will flow to the new https://www version of your website. Traffic data for the non-https version of your website will be discontinued once your website has been redirected to the https version.
Do I now have "two" versions of my website with regards to "duplicate content"?
All clickbooq websites favor the 'www' version of your custom domain name, meaning all variances of your website domain name are being redirected to the https://www version as the primary version of your website. For example, entering http://domain.com will be permanently redirected [type 301] to https://www.domain.com, and this is the version of your domain that will be indexed by Search Engines.
It may take Google and other search engines several days to a few weeks to update their indexes with the https version of your website links.
Do I need to update my Sitemap if I have one? 
Most search engines are able to determine that your website is now being served over https, but it won't hurt to update your sitemap with the newly updated links.