A great way to create a visually stunning Homepage is to create a Slideshow of images that greets your visitors when they visit your clickbooq website.
Here's how to create one:
1. First, create a Gallery if you don't already have one that you would like to use for the Homepage Slideshow. Click the '+' button at the top of your Site Menu Content panel, then select Gallery. Enter a name for your new Gallery.




2. Add or Upload a few or your best images to use in your Homepage Gallery. When you are finished, click the "Gallery Settings" button:



3. Check the box to "Set as Home". This will make the Gallery the Homepage for your website. Next, check the box next to "Custom Gallery Settings" as shown:



4. Select "Slideshow" from the Gallery Style, then Enable Slideshow and Autostart and adjust the delay settings. You can configure additional settings if you wish. Click Update to save the Custom settings.

Tip: Create a Fullscreen Background Image Gallery: If you are using a "Fullscreen" template, you can display a fullscreen (edge-to-edge) homepage slideshow by selecting the option for "Gallery Fills Background".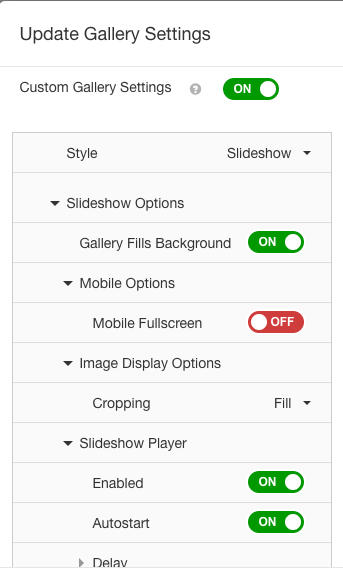 5. To view your homepage slideshow, Launch your website by clicking the Launch icon located in the top-right corner of the Toolbox application, then make adjustments as necessary.
6. By default, Slideshows are converted to Grid mode on Mobile devices in order to better utilize the more commonly-used portrait-orientation of these devices.
If you wish to display your Homepage slideshow with a fullscreen effect on Mobile devices, you can toggle an additional option for Mobile Fullscreen shown here:

​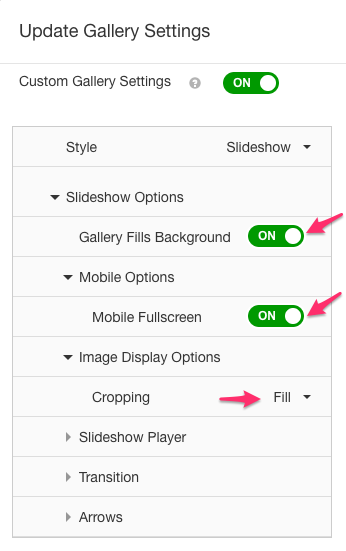 Note: Since most devices are viewed in Portrait mode, but most images are oriented in Landscape, the fullscreen option will likely result in excessive cropping of your images with this feature enabled. Test your homepage on your device to see if this option works for your Homepage images.