By default, clickbooq galleries will scale your images to as large as possible, within the constraints of the website itself and the size of the browser window that your website is being viewed from.
To take advantage of presenting large, impactful images, the current maximum image size that is supported by our application is 1800x1200px (WxH). We have found that this size offers the best combination of fast image downloads and high image quality.
Smaller images may display image degradation as they are scaled to fit our fullscreen, scaling templates.
To prevent this scaling, disable the Image Scaling feature.
1. Log into the Toolbox at https://app.clickbooq.com, then click the Design tab 
2. Expand the Galleries panel.
3. Under Slideshow Options > Image Display Options, turn Image Scaling off.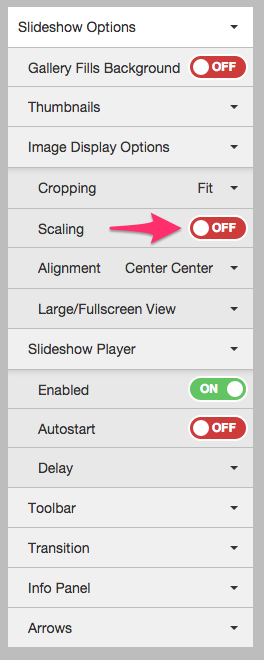 4. Click the Save and Publish button to publish your changes to your site.