You can add a Phone Number* button that displays in the Social Icons section of your website:

To add a Phone number icon, log into the Toolbox and access the Design [tab]. Then expand the Social panel: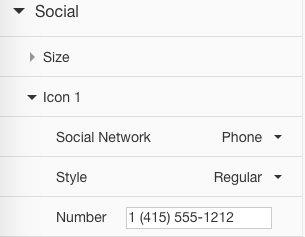 Select the icon position you wish to modify, then select Phone from the Social Network dropdown menu. Enter the phone number you wish to dial when your visitor clicks on the icon.
Save and Publish to effect your changes.
*Phone Number Links will launch the native Phone app on your visitor's smartphone. As there isn't a native Phone app for desktop operating systems, clicking a Phone Number link will not perform any action.