clickbooq comes with predesigned Site Templates so you can quickly and easily create your site and change the template whenever you want. When you sign up for a Trial account, you will be asked to select one of the templates to begin. Selecting a template instantly populates your site with a default layout, fonts, colors, and gallery style.
Once you've selected a template, you can edit any of the template's default selections for fonts, colors, and gallery style and options. However, you cannot change a template's navigation menu and logo orientation.
Each template has a fixed navigation menu - either along the top of the site or down the left-hand side. Logo placement can be left-aligned, centered, stacked, or inline with the navigation menu. Select a template with the navigation menu and logo placement you prefer.
You can change the template you are using for your website design at any time. Switching to a new template will save your current template, so you can switch back to it later if you wish.
Switching templates will change your design's settings to match the defaults for the newly selected template.
To change your Template, click 'Select New Template' in the Design [tab] > Template panel: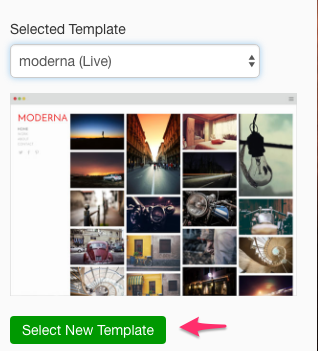 On the Templates Selector page, select a new template you would like to use. Once you select a Template, give it an identifying Name to return to the Design Editor:
Creating Multiple Versions of your current Template
Once you select a template, it is listed in the Templates Selector page under 'My Templates'. Accessing this section will allow you to create copies of your existing templates with any modifications intact. Click the Copy button to create a new version based on the saved template.

Switch Between Saved Templates
Use the Template Selector dropdown menu to quickly switch between your saved templates: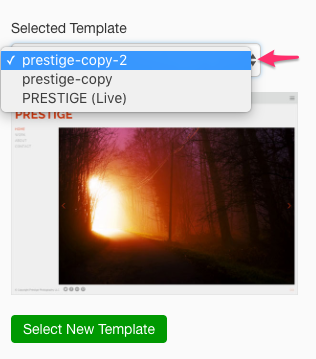 "Save Changes" vs "Save & Publish"
If the currently selected Template is not currently in use for your Live website, you will see a green 'Save Changes' button along with a grey 'Save & Publish' button.

To save changes to your template, without making the template Live, click "Save Changes".
To save your changes AND set the template to be your Live template, click the "Save & Publish" button.
Once you "Save & Publish" the word "(Live)" will appear after your template name.